dcAdmin@dalco
Ultrastar® DC HC550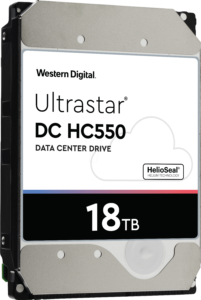 Total Cost of Ownership (TCO) Drives the Data Center Architecture
Data center decisions are driven by TCO. Higher capacity hard drives play a leading role in reducing TCO. An 18TB data center HDD provides 29% more capacity in the same  form factor as a 14TB HDD. Higher capacity HDDs enable data centers to lower CapEx by reducing supporting hardware and system level costs when compared to lower capacity drives. Helium-sealed, low power, high reliability drives reduce energy and maintenance costs, contributing to OpEx savings. For example, a data center using 18TB HDDs vs. 14TB HDDs requires 22% fewer racks while consuming 21% less power per TB at idle, resulting in significant overall TCO reduction for data center environments.
Raising the Capacity Bar with New Technologies
Ultrastar DC HC550 integrates a suite of technologies on a 9-disk platform to create a new class of HDDs. 18TB capacity is achieved by combining technologies that improve areal density working together with technologies that improve performance and reduce power consumption.
The first HDD in the industry to harness Energy-Assisted Magnetic Recording (EAMR) technology improves writability and therefore increases areal
The industry's first Triple Stage Actuator (TSA) enhances head-positioning accuracy, delivering better performance and increased areal
HelioSeal® technology is the foundation for Western Digital's high capacity HDDs and this is the 6th generation of HelioSeal Western Digital has shipped >65 million HelioSeal products to date.
Trusted Reliability and Quality for Data at Scale
With its massive capacity and 2.5M MTBF (projected) reliability rating, the Ultrastar DC HC550 is ideal for object storage implementations. Object storage systems with erasure coding provide better data durability compared to RAID systems, given their tolerance for simultaneous error conditions.
The DC HC550 offers security and encryption options to help protect data from unauthorized use, including SED models in both SATA & SAS. A SED-FIPS will be available in a SAS configuration.
Trust Western Digital and the Ultrastar DC HC550 hard drive to deliver highest capacity, lower TCO and more value to your data center.
Ultrastar® DC SN840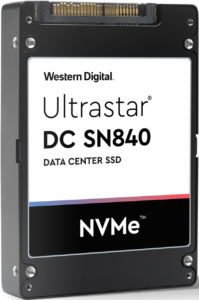 Performance NVMe™ SSDs Enable Enterprise Workloads
NVMeTM adoption in the data center continues to grow as modern applications and workloads demand more performance. Performance NVMe SSDs are designed for primary storage for HPC servers and primary storage in external storage arrays. Performance NVMe SSDs target cloud compute and enterprise workloads that require low latency to data and high availability of data. These applications include real-time data analytics, cloud computing, OLTP/OLAP databases, artificial intelligence (AI), machine learning (ML), pattern recognition and virtualization. The Ultrastar DC SN840 is Western Digital's 3rd generation of performance NVMe SSD for data center with PCIe Gen 3.1 (dual-port), NVMe 1.3, providing up to 3,470/3,330 MB/s Sequential Read/Write and up to 503K IOPS mixed random 70/30 read/write performance.
Dual-port Leadership
Ultrastar DC SN840 extends Western Digital's leadership in dual-port architecture by vertically integrating proven flash controllers. Dual-port high availability supports two redundant paths to the SSD, and is critical to ensuring access to data in the event of a failure in the data path.
Quality, Reliability and Security
Ultrastar DC SN840 is built on Western Digital's 96-layer 3D TLC NAND, with capacities up to 15.36TB in a U.2 2.5" form factor. It offers two endurance classes for workloads; 1 DW/D for read intensive workloads common with the majority of enterprise applications and cloud services, and 3 DW/D for higher write or mixed use workloads such as running SQL. The DC SN840 has a five- year limited warranty with enterprise reliability MTBF of 2.5M hours (projected). The DC SN840 offers security options with Secure Erase (SE), Instant Secure Erase (ISE) with an AES-256 encryption engine, TCG Ruby and FIPS 140-2 validation (forthcoming).